HOME
> Management Principles
Management Principles
Corporate Philosophy
At ICC, each employee cherishes their own personal dreams.
We all strive to make our customers happy and actualize a kindhearted information society.
Management philosophy
As an information service provider, ICC contributes to the informatization of local communities through creative and cutting-edge high quality system solutions.


In order to contribute to user prosperity, we strive to always be a reliable and authentic think-tank while providing the ultimate services to enhance customer satisfaction.


In order to actualize a solid management foundation that can adapt to changing environments and achieve enduring stable corporate growth, we are actively pursuing business expansion on a nationwide scale.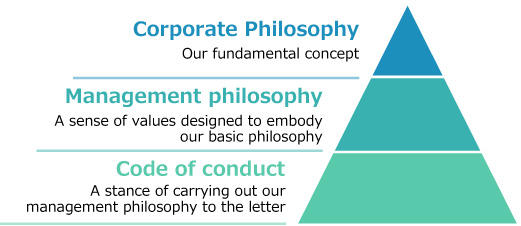 Code of conduct
(5C) We hold true to the 5 C's.


Customer Satisfaction
ICC strives from the customer's perspective to produce customer-satisfying quality.


Challenge
ICC always acts out of aspiration and takes on new challenges.


Communication
ICC values warm-heartedness and communication, and consistently implements smooth team work.


Commitment
ICC takes independent actions with responsibility and pride to meet targets.


Compliance
ICC strives to execute business with integrity and fairness.